Surrealism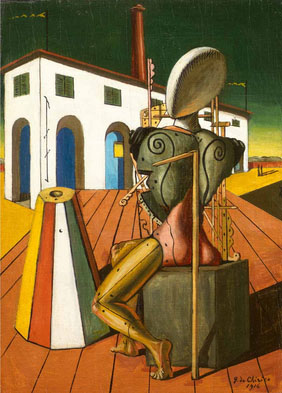 Surrealism was founded as a literary movement in 1920s Paris by writer and theorist André Breton. The group became politically active, regularly published La Révolution surréaliste, and commended painters like Hieronymous Bosch, Gustave Moreau and Georgio de Chirico.
The Surrealists engaged in various forms of research and experiment, including dream interpretation, automatic writing, and decalcomania in order to overcome the limitations of the rational mind and to unlock the creative potential of the unconscious. Breton modified his definition of Surrealism as more visual artists joined the movement. He thus acknowledged the practice of combining automatic techniques with consciously executed processes. Surrealism became a European movement, reaching its zenith in 1936 with the International Surrealist Exhibition in London.

Surrealism occupies an elaborate space of associations, is fascinated by the unexplainable and extraordinary. The objects* of Surrealism offer the beholder a pathway to the creator's psyche rather than objective contents or memories of a physical state. This dialogue with the world of dreams, trance and strange correspondences produces higher meaning and experiences of truth.
* Dreamt objects, natural objects, found objects, poèmes-objets, assemblages
CONTENTS
1 André Breton
"I believe in the future resolution of these two states, dream and reality, which are seemingly so contradictory, into a kind of absolute reality, a surreality, if one may so speak." (André Breton)

André Breton (1896-1966) was a writer who had studied medicine and developed an interest in psychoanalysis. He met Philippe Soupault and Louis Aragon in 1917 while performing his duties in a ward for traumatised soldiers. Together they began to publish the review Littérature in 1919, with Breton abandoning his formal studies one year later to join the Dada movement. An exploration of automatic writing and the collaboration with Soupault resulted in Les Champs magnétiques (1921) followed by Breton's key texts Manifeste du Surréalisme (1924) and Nadja (1928). Breton believed the unconscious to be a source of freedom. He admired works where the function of the artist or poet had been to unlock, shape and mythologize human desire.
SURREALISM, n. Psychic automatism in its pure state, by which one proposes to express - verbally, by means of the written word, or in any other manner - the actual functioning of thought. Dictated by the thought, in the absence of any control exercised by reason, exempt from any aesthetic or moral concern. (André Breton)
Breton's manifesto delineated the Surrealist group's objectives and ideas. He believed the absolute rationalism of his age to prevent intellectual advancement and unable to address social issues. To him, psychoanalysis promised not only to save the human imagination from positivist emptiness, but also to vindicate his own explorations of the unconscious. Breton suggested early on that dreams represent significant psychic activity, show evidence of continuity, and are subject to discernible organising principles.
2 Max Ernst
"The collages ... are so astonishingly effective because their creator succeeded in placing conscious restrictions on the arbitrariness and amorphousness to which such semi-automatic techniques all too easily lead." (Spies)

A student of philosophy, art history and psychology, Max Ernst (1891-1976) worked in the Expressionist style before exploring the medium of collage during his time with the Dada movement. In 1921 he exhibited a series of collages in Paris, moving there one year later to develop 'proto-Surrealist' works like Saint Cecilia. By the time Ernst became interested in the Surrealist movement, André Breton as well as Paul Eluard were aware of his work.
Ernst was highly creative and a technical innovator. He created scenes of estrangement as well as enchantment, for instance by combining abstract patterns derived from decalcomania with carefully painted aspects of the nude.
3 Salvador Dali
"It is as if ecstasy opens the way to a world that is as distant from reality as the world of dreams is. Ecstasy is the 'pure state' of the demanding and hyper-aesthetic vital lucidity." (Dali, 1933)

Salvador Dali (1904-89) had studied at the Academy of Fine Arts in Madrid. He was influenced by Cubism, Futurism, and the metaphysical paintings of de Chirico. He wrote a screen play for Luis Buñuel before his introduction to André Breton. Dali's involvement with the Surrealists led to the development of his 'paranoiac-critical' method, as well as paintings characterized by half-human figures, melting shapes, eroticism and decay.
In the Dalian universe, objects with symbolic function are really extraplastic and thus "depend only on the individual's amorous imagination." In the 1960s Dali produced a number of crystal sculptures - now recurring motifs borrowed from his classical tableau - including Hallucinogenic Toreador (1970) and Rêve causé par le vol d'une Abeille (1944).
4 Joan Miro
"Flittering innocent beings, utterly unsuited to the struggle for existence, goggle-eyed, bearing the blank staring expressions of brilliant fish in tropical waters, or insects in flower-mad gardens, or radiant birds flying among ornamental planets." (Danto)

Joan Miro (1893-1983) studied art in Barcelona and moved to Paris in 1921 where he set up a studio. When he discovered cubism and surrealism his art developed into a balanced interaction between psychic automatism, free-form painting, and consciously determined composition, resulting in a delicate abstract style.
Miro's artwork was accepted at the Salon d'Automne of 1923, as well as by the Surrealist group which he joined in 1924. An exquisite series of 23 gouaches, known as the Constellations, were begun in Varengeville-sur-Mer in January 1940, continued in Palma de Mallorca [due to the war] and completed in Catalonia by September 1941. In the 1950s and 1960s Miro created murals for UNESCO in Paris and the Guggenheim Museum in New York.

Concept, Text, Coding (c) Marcel Ritschel, Sydney 01.11.2005 (edited: 2017)
5 Acknowledgements
Allert, B [ed.]: 1996, Languages of Visuality, Wayne State University Press.
ART20, The Thames and Hudson Multimedia Dictionary of Modern Art. Retrieved October, 2005 from www.artchive.com
Breton, A: 1924, Manifesto of Surrealism.
Breton, A: 1934, What is Surrealism? Retrieved October, 2005 from http://pers-www.wlv.ac.uk/~fa1871/
Caws, M [ed.]: 1995, Free Rein, French Modernist Library Series. Retrieved October, 2005 from www.studiocleo.com/librarie/breton/bretonpage.html
Caws, M [ed.]: 2004, Surrealism, Phaidon Press Limited.
Dali, S: 1975, Diary of a Genius, Pan Books.
Danto, A: Encounters and Reflections. Retrieved October, 2005 from www.artchive.com
Flint, L: 2005, Joan Miro. Retrieved October, 2005 from www.guggenheim-venice.it
Foster, H: 1993, Compulsive Beauty, The MIT Press.
Fundació Miró: 2005, Biography of Joan Miro. Retrieved October, 2005 from www.bcn.fjmiro.es/
Hughes, R: Nothing If Not Critical: Selected Essays on Art and Artists. Retrieved October, 2005 from www.artchive.com
Levey, S [ed.]: 1996, Surrealism, Keele University Press.
Spies, W: Max Ernst: A Retrospective. Retrieved October, 2005 from www.artchive.com
The Columbia Encyclopedia, Sixth Edition: 2001-05, Surrealism.
Wikipedia: André Breton. Retrieved October, 2005 from http://en.wikipedia.org
The Metropolitan Museum of Art: 2000-2005, Constellation: Toward the Rainbow. Retrieved October, 2005 from www.metmuseum.org
The Metropolitan Museum of Art: 2000-2005, Max Ernst: A Retrospective. Retrieved October, 2005 from www.metmuseum.org